Hello everyone and welcome to Tempt My Tummy Tuesday. Glad to have you join us. My sister, Lana, and I co-host this blog carnival. We share recipes, kitchen and cooking tips, and anything food related that you want to share. So, join the fun. Write your foodie post and then link back to my blog, mentioning Tempt My Tummy Tuesday. Don't forget to leave your link info, below, with Mr. Linky.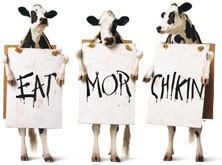 This is the most unique and yummy chicken salad. I hope you will make this soon, and ENJOY!
(I know this looks like a lot of ingredients for a chicken salad, but it is worth it.)
2 Tablespoons Canola oil
2 Tablespoons orange juice
1 Teaspoon salt
1 1/2 Tablespoons red wind vinegar
1 Tablespoon brown sugar
4 cups cubed cooked chicken (make the cows happy)
3 cups cooked rice (cooled)
1 1/2 cup seedless grapes (sliced)
1 1/2 cup finely chopped celery
1 can (13oz) pineapple bits (drained)
1 cup chopped dates or raisins ( I use raisins.)
1 cup toated slivered almonds
1 cup mayo
1 cup (11 oz) mandarin oranges (drained)
Directions: Combine first five ingredients. Marinate the cooked and cubed chicken with these ingredients in a ziploc bag for at least 15 minutes and up to overnight, in the 'fridge. Place all ingredients, including the marinade and chicken, in a large bowl. Toss gently to mix. Add the oranges last to prevent damaging them. Keep refrigerated until serving. Serve on a bed of fancy lettuce.
Remember to visit Lana's blog. She loves visitors and is such a nice hostess.
Don't forget to come back on Tuesday for "Tempt My Tummy Tuesday" blog carnival. It is fun.