I am linking this post to Kristen's Works for Me Wednesday.

Hubby gave me an iPhone after my cell phone took a long swim in a Large Sonic Cherry-Lime Slush. As you can imagine, the my phone did not know how to swim, and died an ugly death as a result of the cherry-lime slush swim episode. I really liked my phone. It was pink and very handy. However…. nothing is as handy as my iPhone. Oh BOY!! I love that phone!!!
So, today, I want to share some of the Apps I have discovered, which Gracie can use. YES!!! You read that correctly. These are iPhone Apps meant to entertain and or educate my 2 year old!!!
Apps for Mom and Dad are available for the iPod and iPhone. I was so excited to discover some that will both entertain and teach Grace. She does not have any Leapsters or other hand held games. So, having my daughter use a hand held game/ toy is a new concept. There are so many child-friendly Apps. I will list a few that we are now enjoying.
Kidtivities cost $0.99 for ages 2 to 6 years with 100 fun and educational activities.
Duck Duck Moose is the creator of my favorite children's apps! These apps are a fun interactive activity. Grace has to push, tap, or touch something on the screen to bet a response. The responses grab her full attention and make her giggle! Duck Duck Moose is the creator of :
Old MacDonald by Duck Duck Moose cost $1.99 keeps my daughter busy!! She recently was entertained by this app while we were attending a grave side funeral. I had Grace in her stoller, positioned away from the attendees, and had the volume set low on my iPhone. It was a lifesaver!

Wheels on the Bus, $0.99 is another one to keep the wee one entertained!

Itsy Bitsy Spider, $0.99 is the newest release from Duck Duck Moose. Grace enjoys figuring out what all the images in the screen will do, when tapped- SO interactive and entertaining.


I just discovered iPlay 'n Learn from my latest Parents magazine. At first I thought it may be too advanced for my 2 year old. I was wrong. Grace will choose her level, and respond to the questions asked. If she chooses the "Shapes" game, it will have her point and tap on the shapes she is instructed to choose. Then give appropriate feedback, letting her know if she is correct or needs to try again. The levels are flashcards, quizzes, and tracing. She loves this and is actually learning, not just being distracted while mom and dad are finishing their dinner during a much needed getaway to a nice restaurant. (Yes, she played this game while hubby and I were finishing our dinner at The Cheesecake Factory and I was so happy to have it!!)
How about have your iPhone read your child a story? FrogDogMedia LLC has created iStoryTime Kids Books. These are original children's stories written for the iPhone. Grace will sit, listen to a voice read the story to her, as Grace "turns" the pages. Here are two I currently have on my phone.
Binky the Pink Elephant, $1.99 ,Grace LOVES Binky!
The Brave Monkey Pirate, $1.99, another one Grace enjoys.
There are two other by iStoryTime Kids Books, and more are coming. If you go to iTunes, or you Apps Store, and search iStoryTime Kids Books you will find them.
There are SO many more toddler/ pre-K appropriate Apps out there. These are just a few.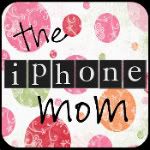 Of course the best resource for learning about kid friendly Apps and uses for your iPhone is from other mothers. That is why I am sharing what I have discovered. In researching other mommy-friendly iPhone Apps I discovered a great (new to me) blog. The blog is called The iPhone Mom. I think the title of her blog tells it all!! She has GREAT info about the iPhone and uses as a mom! I am glad I found the site. If you have an iPhone, you should check out her site!!
So, tell me, are you an iPhone user? If so, do you have a favorite App?
Don't forget to come back on Tuesday for "Tempt My Tummy Tuesday" blog carnival.