Tomorrow is our MOPS Annual Tea.  As hostess of our MOPS program, I am making sure everything will be perfect for our mothers.   I am excited about this menu and cannot wait for tomorrow morning to arrive. Thankfully the other members of our steering team are helping prepare the food.   So, with all the help it is sure to be great.
We are serving cucumber sandwiches, individual fruit pizzas, chicken salad served on crescents, blueberry scones, yogurt served with fresh fruit, and finally oreo truffles.  I will have water, coffee, lemonade, and raspberry tea available.   What do you think?  Don't you wish you were a mother of preschoolers (MOPS) mom?
Today I want to share my favorite recipe for chicken salad, which I am requested to bring each year for the Tea.  I have shared this in the past, but it has been a few years.  So, I thought I would share it again.  I just stepped out of the kitchen after making the chicken salad and had a hard time not eating it!
Chicken Salad with Bacon and Almonds
4 cups cooked, cubed chicken
2 cups chopped celery
1/2 cup slivered almonds, toasted
4 to 5 slices of bacon crisply cooked and crumbled
1 cup seedless purple or green grapes, sliced in halves
1 cup mayo ( I use Kraft olive oil mayo)
1 cup sour cream ( I use light sour cream)
1 tsp salt
2 Tbsp lemon juice
Combine chicken, celery, almonds, grapes and bacon.
In another container, combine mayo, sour cream, salt, and lemon juice.
Toss chicken mixture with the dressing and chill thoroughly before serving.
I hope you enjoy this chicken salad recipe. It truly is awesome and I know you will enjoy it.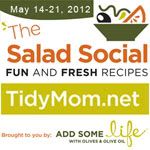 If you are looking for other salad recipes then  Come join The Salad Social at TidyMom sponsored by The International Olive Council's Add Some Life.  There are many great salad recipe being shared all week.  There is also a great giveaway!  Don't miss out!
Don't forget to visit Blessed With Grace Facebook page for even more recipes and fun.  Sign up for a free subscription to Blessed With Grace by email and you  won't miss anything!